Cordless Vacuum Service & Repair
What is included in the Cordless Vacuum In-Home Service?
We will arrange a service appointment time with you either at your home or your place of work and at a time that is convenient to you.
Your Service Technician will be fully trained and insured, arrive in a sign written vehicle and wear a full uniform complete with I.D.
Your Service Technician will use the latest technology by employing a mobile electronic tablet fully loaded with the exact service schedule for your specific model of Dyson and have instant access to exploded diagrams and technical information.
Your Dyson will be completely disassembled right down to it's component parts, clearing all blockages as they are found.
Each part will be carefully examined for defects.
If your Dyson requires any replacement parts then your Service Technician will thoroughly explained to you exactly which parts are needed and why. It will be totally your decision whether to purchase them or not.
If you choose to have the parts replaced your Service Technician will fit any necessary new parts, thoroughly clean all parts and reassemble and polish your Dyson ready for another years faithful service.
All replaced parts will be disposed of and your home will be left clean and tidy.
Payment can be made by cash, cheque or credit card.
Your Service Report/Invoice will be emailed to you so you have a permanent record of Dyson's service history.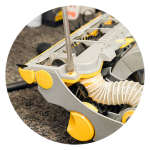 Full In-Home

Vacuum Servicing

from



£34.99 (Was £69.99)
Have your vacuum cleaner stripped right down to the motor, in your own home, by one of our mobile service technicians.
Book Vacuum Service
Unfortunately, we cannot service commercial vacuums nor domestic vacuums used commercially.
Our Customer Reviews
"My mum has been telling me for ages that my Dyson doesn't pick up as well as hers. So I decided to give PHC a go with their Dyson service and I can't believe the difference!"
"I have just had my Dyson DC24 serviced by PHC and can't believe the difference.
My hoover looks like new, smells great
and performs so well."