Choosing the right company to correctly service or repair your appliance is very important. Unfortunately, as many of the major manufacturers warn their customers, there are lots of 'one man bands' who set themselves up as engineers working from home without having the correct training, tools or knowledge to correctly service your appliance. ALWAYS ensure that you are dealing with a professional company that is fully insured and have premises that you can visit and are not simply amateurs 'giving it a go' working from home.
PHC has worked from the same, four storey premises, at 126 High Street, Rainham, Kent since 1999 and we welcome personal callers; whether to book a service, drop their vacuum off for repair, buy a part or for just some friendly help and advice.
Since PHC was founded in 1989 we have grown for 30 consecutive years and now have over 60,000 customers who trust the care of their vacuum cleaner to us. Our customers live across Kent, Sussex, Surrey, South East London & Essex. We have completed well in excess of 500,000 in-home services. PHC is now the largest independent vacuum cleaner service centre in the UK.
We have always invested in technology in order to provide our customers with the best possible servicing experience. We have bespoke systems such as –
A truly unique digital booking system which allows us to manage our technician's time to ensure that they arrive as close to the customers appointment time as possible. Because we understand that your time is precious.
A purpose built dialler system which allows us to contact customers who are due their annual service in a specific area only to minimise our fuel usage and our CO² footprint.
A mobile, electronic tablet based service schedule system which allows our technicians to access a training schedule specific to the actual appliance being worked on.
A fully electronic service report system which allows each customer to have their service report emailed to them so they have a permanent record of the work completed on their appliance which cuts down on unnecessary printing.
Full exploded diagrams for each appliance instantly accessible via the service technician's tablet.
The electronic recording of each appliance's own unique service history.
All of our Service Technicians are fully trained, drive sign written vehicles, wear a uniform complete with I.D. cards and are fully insured. We have a team of Specialist Service Technician's covering the whole of the South East of England. To Book a Service, make an Enquiry or request a Call Back, please click on one of the buttons above. Or simply call us on 0333 533 7220.
We currently have over 60,000 customers who trust PHC to look after their appliance. Why not give us a try?
We have a team of Specialist Service Engineers covering most of the South East.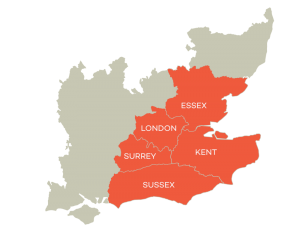 From 1st September 2015 EU regulations now restrict the power of vacuum cleaner motors which for many customers means that they are replacing their existing machine with a less powerful one. In August 2015 the Which? consumer group said "…seven of the vacuums it has award Best Buy status to since 2013 would be banned under the new regulations. "So if you're in the market for a powerful vacuum, you should act quickly, before all of the models currently available sell out". The wattage will be limited to only 900 watts by 2017 – further restricting choice. Current cleaners typically boast an average of 1,800 watts."
It is better for the environment to repair an existing vacuum than replacing the whole thing with a new one. Very few appliances are completely beyond repair and it costs very little to have a comprehensive fault diagnosis.
On many occasions people automatically think of replacing an appliance when often the fault is a very simple one to rectify.
The cost of replacing a whole vacuum cleaner is massively more than the cost of an average repair.
Absolutely not. A customer has the right to have an appliance serviced by any company they choose to providing that the correct parts are fitted and that a full written record is kept of the work carried out.
Many manufacturers try to convince their customers that their warranty will be adversely affected if the customer chooses an alternative supplier. But in fact there are strict EU anti-competition rules which specifically prevent manufacturers from doing this. There rules were first put in place to protect the after sales market connected with the car industry. Please click here for further details.
Certain manufacturers would have us believe that their vacuum cleaners are fitted with a 'lifetime' filter. But this is not true, unless they think that their product is to only last a few years. The purpose of a filter is to FILTER which, by definition, means that it must retain the particles that it was designed to filter. Whether it be an oil filter, an air filter or any other mechanical filter sooner or later it will become full with the particles it was designed to retain and need to be replaced.
Most vacuum cleaner 'lifetime' filters are little more than a crude sponge with a screen mesh. It is true that they can be washed through a few times but eventually they become so impregnated with dirt that washing will not thoroughly remove the retained particles.
In fact 'vacuum' cleaners are misnamed. Vacuum cleaners should actually be called 'air flow' cleaners. Nothing moves in a vacuum and vacuum cleaners rely on strong air flow to both pick up dirt and keep their motor cool. The cleaner the filters the greater the airflow which directly leads to increased dirt pick up and increased motor live.
We will arrange a service appointment time with you either at your home or your place of work and at a time that is convenient to you.
Your Service Technician will be fully trained and insured, arrive in a sign written vehicle and wear a full uniform complete with I.D.
Your Service Technician will use the latest technology by employing a mobile electronic tablet fully loaded with the exact service schedule for your specific model of appliance and have instant access to exploded diagrams and technical information.
Your Appliance will be completely disassembled right down to it's component parts, clearing all blockages as they are found.
Each part will be carefully examined for defects.
If your Appliance requires any replacement parts then your Service Technician will thoroughly explained to you exactly which parts are needed and why. It will be totally your decision whether to purchase them or not.
If you choose to have the parts replaced your Service Technician will fit any necessary new parts, thoroughly clean all parts and reassemble and polish your appliance ready for another years faithful service.
All replaced parts will be disposed of and your home will be left clean and tidy.
Payment can be made by cash, cheque or credit card.
Your Service Report/Invoice will be emailed to you so you have a permanent record of appliance's service history.
If our service technician finds a fault that requires a repair without new parts such as a loose connection or an adjustment then the cost is included as part of the service.
If the appliance requires any parts to be replaced then the technician will fully explain why the new part is required and the cost of it. It is then entirely your choice whether to have it replaced or not. We will not spend your money without your permission.
Yes, you will be given an actual time for your service appointment such as 8:00 am or 3:30 pm.
Our service technician's arrive within 30 minutes or your appointment time; 92% of the time.
Your vacuum cleaner does a very important job in your home.  Not only is it the main appliance responsible for keeping your home clean and hygienic but it also helps to protect thousands of pounds worth of carpeting and soft furnishing in the average home.
We know that having an efficient vacuum cleaner is a high priority because for most consumers if their vacuum cleaner suddenly broke beyond repair then they would replace it on their next day off. If your washing machine breaks down then you can use a launderette but if your vacuum cleaner stops working you can't take your carpets out to be cleaned!
All vacuum cleaners suffer from blockages which vastly adverse their performance and causes the motor to overheat and wear out prematurely. A regular routine service both increases the vacuum's efficiency and it's useful life.
Yes, all parts that we supply and fit are covered with a full 12 month 'return-to-base' warranty against manufacturers defects. (This excludes consumables such as filters, bags, belts etc.)
Thousands of our customers choose to spread the cost of their annual service by becoming a member of our service scheme and paying a small monthly Direct Debit payment of £8.99 per month.
Benefits include –
An annual service worth up to £69.99.
Unlimited 'Free Call Out'. (Fair use policy applies)
10% Discount on all consumables.
All Parts & Labour covered.
Access to Special offers & extra discounts.
Soon our PHC VIP Members will have a dedicated Members Area to access these extra benefits including…
Arranging call outs.
Accessing special offers.
Booking their Annual Service.
Contacting the member's department via live chat.
Having an amazing member's only experience!
For further details please call us on 0333 533 7220

Unfortunately, we cannot service commercial vacuums nor domestic vacuums used commercially.
For being both the best Independent Home Services Business and, also being the best Vacuum Service & Repair Business in all of South East England.