Can Dyson Vacuum Cleaners Be Repaired?
It makes sense to always buy the best that you can afford when it comes to household appliances, and this applies to vacuum cleaners as well.
If you are fortunate enough to own a Dyson vacuum cleaner, then you can rest assured that it has been designed to perform at its best for years to come.
However, just like other appliances, there will come a time when your cleaner is not working at its best or stops working altogether. It is at these times when you might be like many other people and be tempted to take the easy way out and simply buy a new vacuum cleaner.
If my Dyson cleaner stops working, what do I do?
Can Dyson Vacuum Cleaners be repaired?
Should your Dyson cleaner stop working, then all it will take is to contact and book an assessment from one of our independent Dyson Service Engineers at https://www.phcvacuumservice.co.uk/dyson-vacuum-service-repair/ for a professional, in-home evaluation of your Dyson vacuum cleaner.
Will the manufacturer's warranty of my cleaner be adversely affected if service and repair are carried out by PHC?
Most definitely not!
Clients are entitled to have their appliances serviced and repaired by the company of their choice, on condition that the proper parts are used in the process and a complete, written record of the work that has been carried out on the appliance, is kept for future reference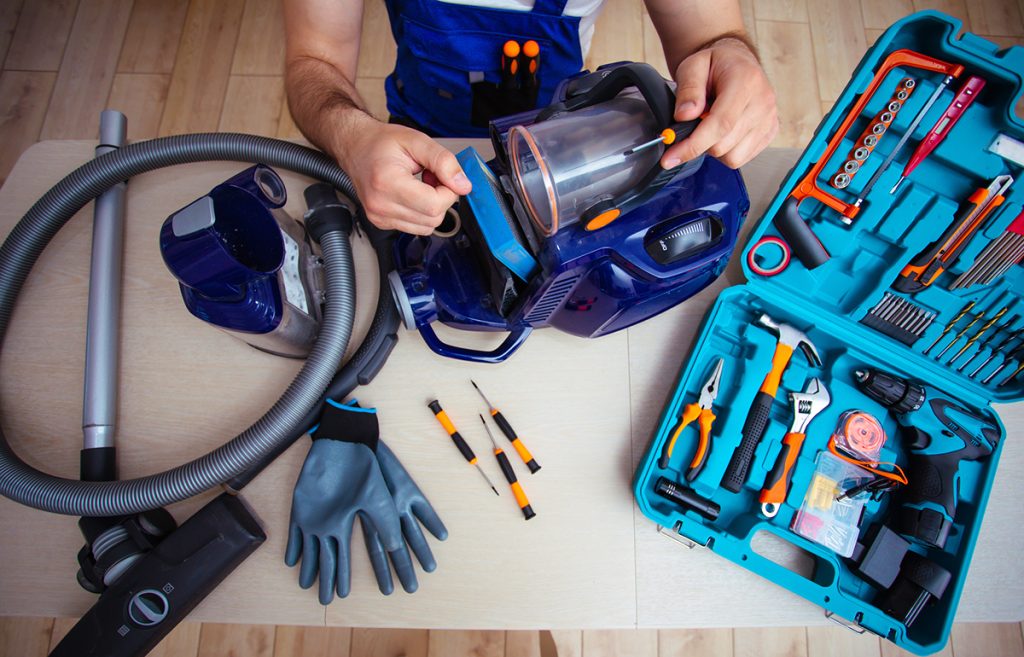 What are the advantages of servicing and repairing rather than replacing your Dyson cleaner?
Like many other people, you might be tempted to simply replace your Dyson cleaner that has stopped working, with a newer model, or even a less expensive brand that will probably have to be replaced within a year. Your Dyson cleaner is a top-quality product, and as such, makes more sense to repair it, rather than replace it.
You have invested in a quality appliance for your home, so there is every likelihood that the company will have replacement parts for those which have broken down.
Advantages of repairing your Dyson rather than replacing it include:
1, The one enormous benefit of these new-age stick vacuum cleaners is that they are designed to be repaired instead of replaced!
2, Repairing your cleaner will save you a significant amount of money
3, Fixing your Dyson cleaner means that you are helping the environment by NOT dumping almost 10kg of plastic and metal somewhere
What does a Dyson vacuum service and repair entail?
We will arrange a vacuum service appointment with you, on a day and at a time that is at your convenience, at either your home or workplace.
A fully trained and insured Service Technician, in full uniform and with an ID, will arrive in a vehicle carrying our company logo.
He will use the latest technology to gain access to all the important information regarding your specific model of Dyson vacuum cleaner.
Your vacuum cleaner will then be dissembled right down to the component parts, with each part being examined for defects, and all blockages being cleared along the way.
Parts like the carbon brushes, which do tend to become worn, will be thoroughly examined for wear and tear.
Should any parts on your Dyson need to be replaced, then the service technician will explain to you in detail which parts need to be replaced and why. The decision to purchase these parts will be up to you entirely.
If you do decide to replace these parts, then the service technician will fit the necessary new parts, thoroughly clean all other parts, and then reassemble and polish your Dyson vacuum cleaner into that peak condition you are looking for, to enjoy another year of excellent service from your cleaner!
Replaced parts will be disposed of properly and the area where the work on your cleaner was carried out, left clean, neat, and tidy.
In conclusion
When an important appliance such as your vacuum cleaner stops working, the dismay and frustration can make you want to save time and simply go out and buy a new one. Yes, buying a new vacuum cleaner might save you time, but if you have a top-class cleaner such as a Dyson, then taking the time to have it serviced and repaired is a much better option than simply buying a new one!
Your Dyson vacuum cleaner is an investment and should be treated like any other investment you have made over the years. Make a point of having it serviced and repaired by PHC regularly, and you are guaranteed to enjoy having a cleaner that works at peak performance all the time, for many years to come!