The benefits of getting your Dyson vacuum serviced
It makes perfect sense to invest in a good quality vacuum cleaner like a Dyson because you will know for sure then, that your investment will last for many years.
However, even though your cleaner comes with a warranty, there are certain things that you need to do too, to make sure that your Dyson works at its peak for as long as possible.
The way to do this is to make sure that it is maintained and serviced regularly.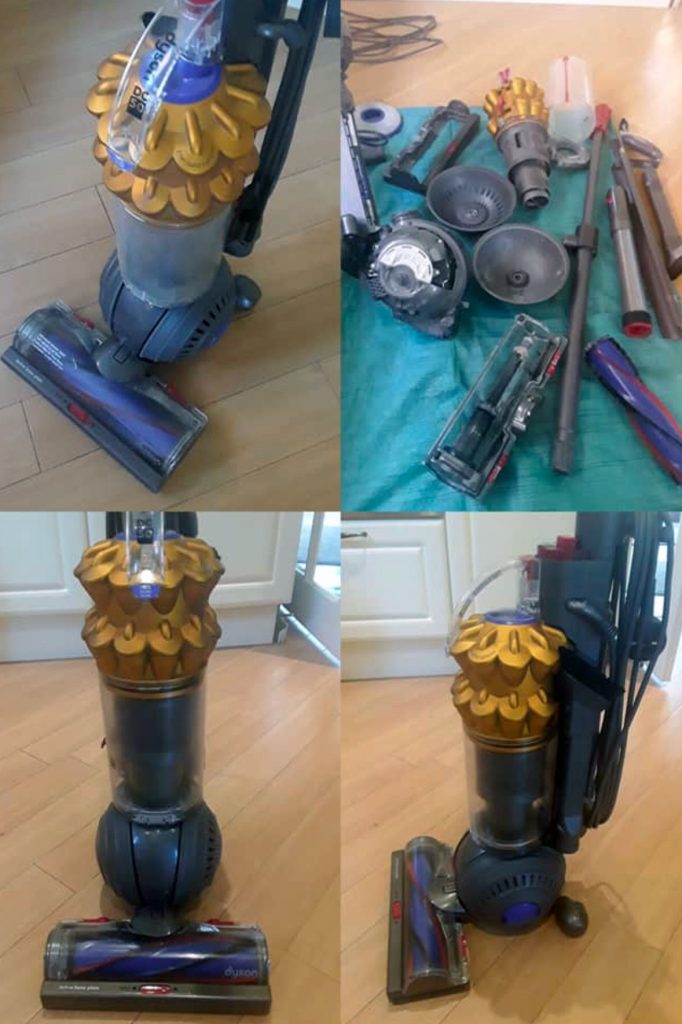 What are the benefits of servicing my Dyson cleaner regularly?
By getting your Dyson serviced regularly you will enjoy benefits such as:
Having a vacuum cleaner that is always in excellent working order
Extending the life of your cleaner and its motor
Preventing premature failure
In addition to this regular vacuum service, you must also carry out routine maintenance on your cleaner, as and when necessary, according to the manufacturer's instructions.
How will I know if my Dyson needs a service?
It is usually recommended that vacuum cleaners are serviced at least once a year, but there are five basic signs to look out for, that will indicate to you that your cleaner needs a service:
No power or the cleaner keeps cutting out. This could simply be because of a loose connection or fuse, or that your cleaner is cutting out through overheating.
Loss of suction that does not improve after routine maintenance
Your vacuum cleaner is louder than usual or is making strange rattling noises or vibrations.
Smells come from your vacuum cleaner even after you have changed the bag or filter.
Your vacuum cleaner is getting hotter than normal.
If you experience any of the above signs with your Dyson vacuum, then it is a good idea to have it serviced as soon as possible.
Who should you contact to service your Dyson?
It is only natural that you want a company that is qualified and experienced with servicing your Dyson cleaner, and our company, PHC, is the best company to approach for the servicing of your Dyson vacuum cleaner. PHC first opened its doors way back in 1989, and has over the years, gained all the experience necessary to service and repair not only Dyson cleaners but other well-known brands too.
We are one of the leaders in the industry in the entire UK and have a team of dedicated, highly skilled individuals available, to see to all your vacuum cleaner service and repair wants and needs.
With more than 65,000 satisfied customers and having serviced and repaired over 500,000 vacuum cleaners, you can hire us with the utmost confidence, and know that your Dyson is in good hands!
Booking a professional service for your Dyson vacuum cleaner is a simple matter of visiting our site at https://www.phcvacuumservice.co.uk/ fill out the handy online form and leave the rest up to us.
What is included in our service?
A service appointment will be arranged with you, at a time convenient to you, either at your home or place of work.
A fully trained and insured uniformed service technician will arrive, with an ID, and in a vehicle displaying our company logo.
Using the latest technology, the service technician will schedule a service for your specific make and model cleaner.
Your Dyson will be completely disassembled right down to the component parts and all blockages cleared out along the way.
Every part of your cleaner will be thoroughly examined for any defects.
Should any parts of your Dyson need replacing, the service technician will explain to you, in detail, which parts are required and the reasons why they are required. It will be your decision entirely, as to whether these parts should be purchased or not.
If you do decide to have the parts replaced, then the service technician will fit any new parts, clean all parts thoroughly, and reassemble and polish your Dyson so that it is in perfect working condition, and ready to give you another year of loyal service.
Replaced parts will be disposed of and the area left clean, neat, and tidy.
You will receive your service report and our invoice via email so that you always have a record of your Dyson's service history.
Payment for our services can be made via cheque, credit card, or cash.
The only way to make sure that your cleaner always works at its peak, and stays performing at its optimum, is to have it serviced every year.
To make things even easier for yourself, and to make sure that your Dyson does have its regular annual service, you might want to consider signing up for one of our various service plans, at https://www.phcvacuumservice.co.uk/membership/.
In conclusion
With all the above important and useful information at your disposal, as well as the opportunity to sign up for a vacuum service plan membership, you can rest easy, knowing that investing in your Dyson vacuum cleaner was one of the best decisions you have ever made!